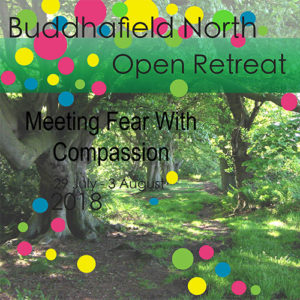 Meeting Fear With Compassion
The Buddhafield North Team invites you to come create a community of all ages living outside in a Yorkshire field… Buddhism talks, fires, kids activities, yoga, walks, meditation, woodcraft, fun, crafts, nature awareness & good food. The theme this year is 'Meeting Fear With Compassion'.
Dates:
Sunday 29th July – Friday 3rd August
Prices:
Adult: Fully Waged £190, Unwaged £150
Child: Child of Fully Waged Adult £100, Child of unwaged adult £80.
Children under 5 are free, but still need to be booked. 18 years old or over is an adult.